Within a reasonable timeline and budget, entirely customize a platform that will complete your company's applications and make sure all your information converges properly.
UDATA Portail is an integrated "Enterprise Information Management" (EIM) platform characterized by its great adaptability and powerful data administration features as well as its undeniable strengths in "Field Service Management" (FSM).
UDATA Portail is the time and cost-efficient alternative to modernizing and completing your application portfolio. Furthermore, with UDATA Portail's management console, you can create Web and mobile (Windows, iOS, Android) applications in a single integrated process.

A solution halfway between a boxed software and a custom development!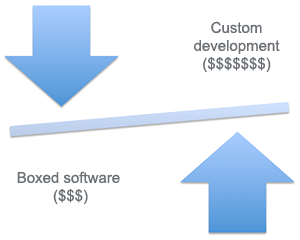 To meet your business needs, the typical choice with which you are faced is the following: a commercial solution or a custom development.
Too often, the search for a commercial solution does not yield the expected results, the match with your needs and the company's procedures being inadequate. A boxed software is often very specialized and sometimes includes unneeded advanced features. Result: high purchase costs, costly evolution (sometimes impossible) and partial use of the features for which you paid.
As far as custom developments are concerned, the time required to realize the architecture, detailed analysis, technological choices, development and tests will dishearten many and with reason. To this are added important financial investments and the required resources before even having a beta version of the desired system. The first day the new system is finally used, it is not rare to find features that are more limited than was initially planned due to budget and time constraints. Result: risky project, system delivered past the initial deadline, intense use of human and financial resources, maintenance and evolution directly dependant on IT budgets.
The alternative we propose, UDATA Portal, is a platform that contains many ready-made features that adapt to your procedures, not the opposite. Used as a modernisation software or as a complement to a core system, the platform will give you the peace of mind offered by a proven commercial software, implemented quickly thanks to a simple and efficient implementation process. In addition, it also offers the advantages of a custom development thanks to its numerous customization features. The best of both worlds!

An integrated platform to get rid of technological burdens and to converge your data


For a large organization, the core systems are the cornerstone of their application portfolio. As such, these systems generally have access to all the resources required for their effective operation and evolution.
For more specific business needs, various independent satellite (departmental) systems, with no common business or technological vision, will be created. Overtime, these systems turn into technological burdens that, for the lucky ones, evolve but monopolize important resources. For the systems that aren't so lucky, they have not evolved for many years and no longer meet the needs of their final users.
The proposed alternative, UDATA Portail, focuses primarily on:
A model-based conception approach that generates an incomparable ROI in comparison to traditional developments..
During a traditional development, each desired feature must be precisely analysed and, as such, requires a large number of resources (IT and final users), and time to produce the documents and carry out the validation cycles. The transition from a paper analysis to a complete and functional system can often be long and tedious. From there, there is also a break-in period to try and stabilize the initial business features, but also the system's general features (displayed on a secure Web portal, search options, data extraction, mobile features if applicable, etc.).
With our model-based conception model, a large proportion of the system already exists and has been tried and tested on a large scale via various business solutions.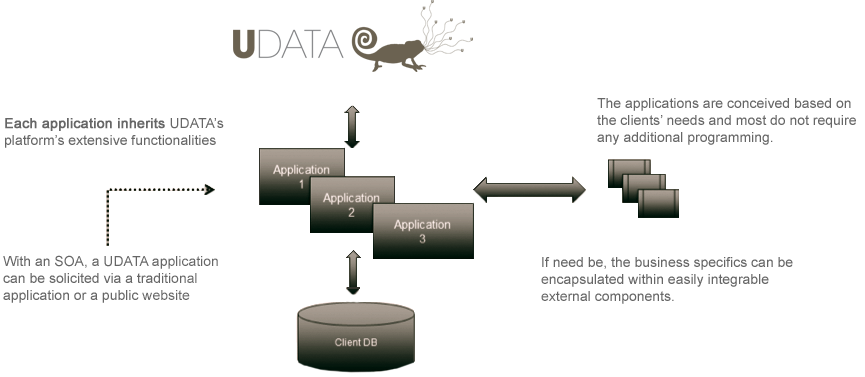 UDATA Portail generally provides 80% of the required data (Web and mobile) administration features and has unique business specificities added on to fit your procedures et data exchanges with the other systems in your application portfolio.
No matter what the nature of your activities or your needs are, UDATA Portail can support a large array of procedures. With our model-based approach, your concern will be focused on your business needs and the process that needs to be supported.
Whether you want to:
Our UDATA Portail is the right solution. Let us prove it to you by accompanying you through a simple and personalized approach. You will come out of it a winner!